The Greens at Wildcat Home Owner's Association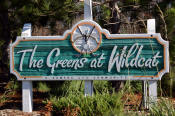 Welcome to The Greens at Wildcat's Home Owners Association's Website. We hope you will find this an easily interactive and informative way to keep current on the latest activities and information.
Please provide your email address to us so that we may contact you using this format.
REMINDER: The HOA dues for the 2019-2020 season are due on or before June 1. Please pay your dues (cash, check or money order) to either Marty (3024) or Joe (3175). Thank you!